It's about that time. Come out and support the Stockader volleyball team in their season opener at home against SBC foe New Riegel! 5:30 JV start time, varsity to follow. #GoKaders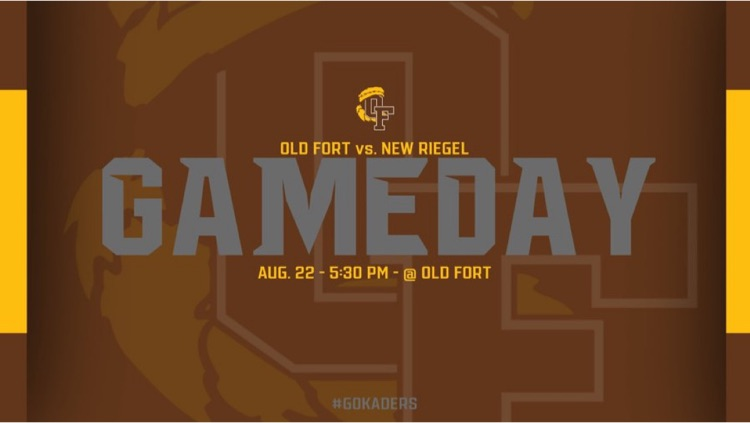 Boys' golf continued to show out, winning the Woodmore Shootout by 9 strokes! Evan Combs: 37 (medalist) Carter Cleveland: 40 Konnor Ernsberger: 43 Ryan Adelsperger: 44 Carter DuBois: 48 Grady Eakin: 49 #GoKaders

Soccer ends in a tie, great effort from both teams! #GoKaders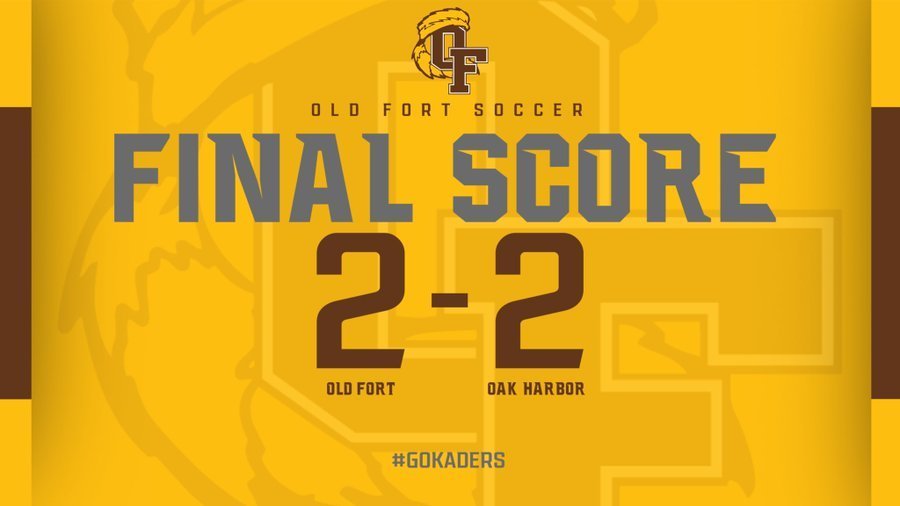 We are excited to see everyone at our 2023-2024 Old Fort Elementary Open House on Monday, Aug. 28th!

Home opener tonight for our soccer team! Come watch as our Stockaders take on Oak Harbor on our home turf at 5:00 PM. #GoKaders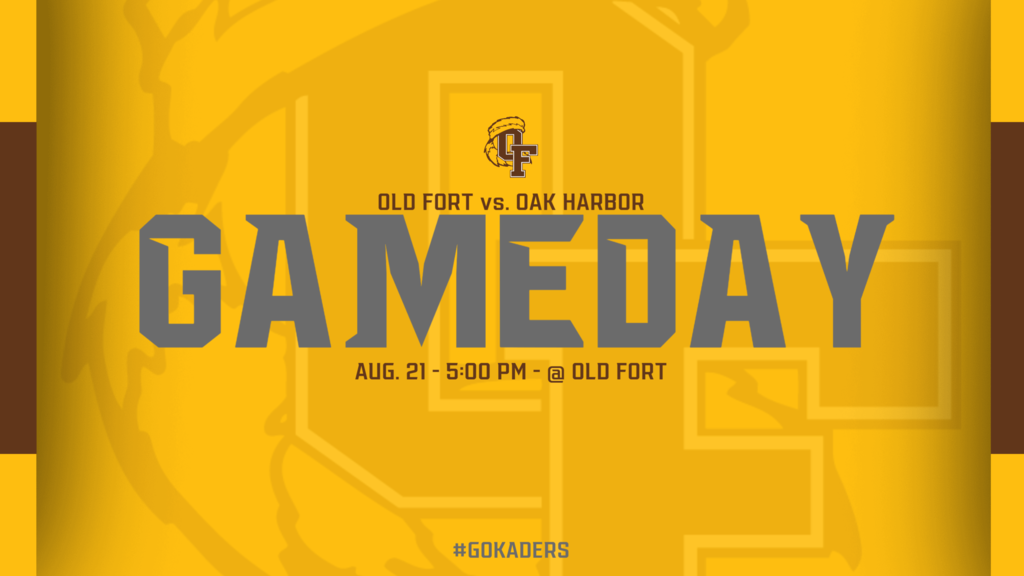 This weeks athletic schedule! Come out and support the multiple events we are hosting here at Old Fort! #GoKaders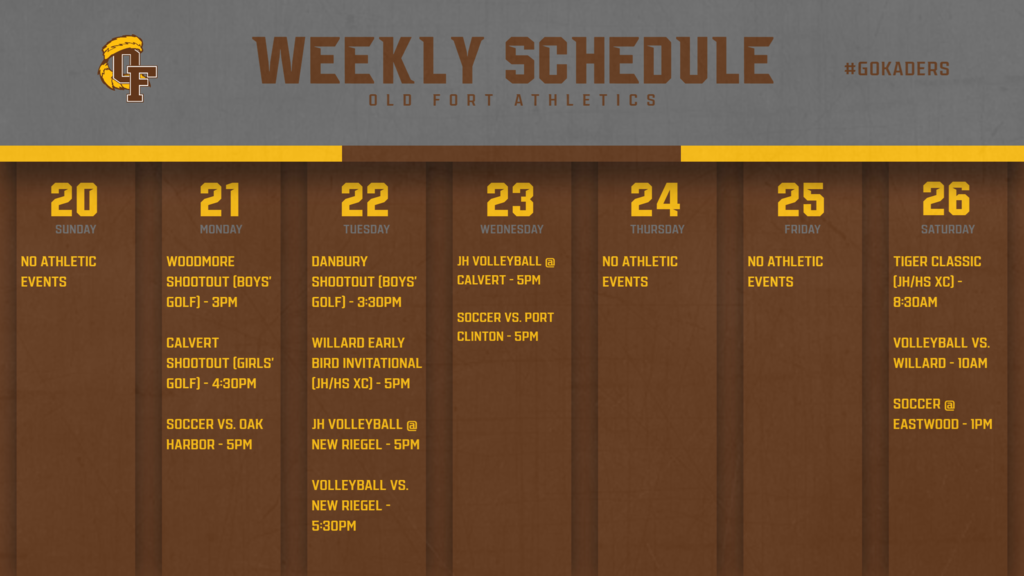 Today our boys' golf team got back in stride, winning the New Riegel SBC Shootout. Cole Bender with a great day, coming up clutch to win the tiebreaker! Konnor Ernsberger: 40 Evan Combs: 42 Carter Cleveland: 44 Carter DuBois: 44 Cole Bender: 46 #GoKaders

Boys' golf yesterday places 2nd in the SMCC SBC Shootout. Tough day for our guys, but room for improvement! Evan Combs: 38 Carter Cleveland: 43 Konnor Ernsberger: 45 Ryan Aldesperger: 46 Carter DuBois: 46 Grady Eakin: 54 #GoKaders

This weeks athletic schedule! Light week. Next week gets busy! #GoKaders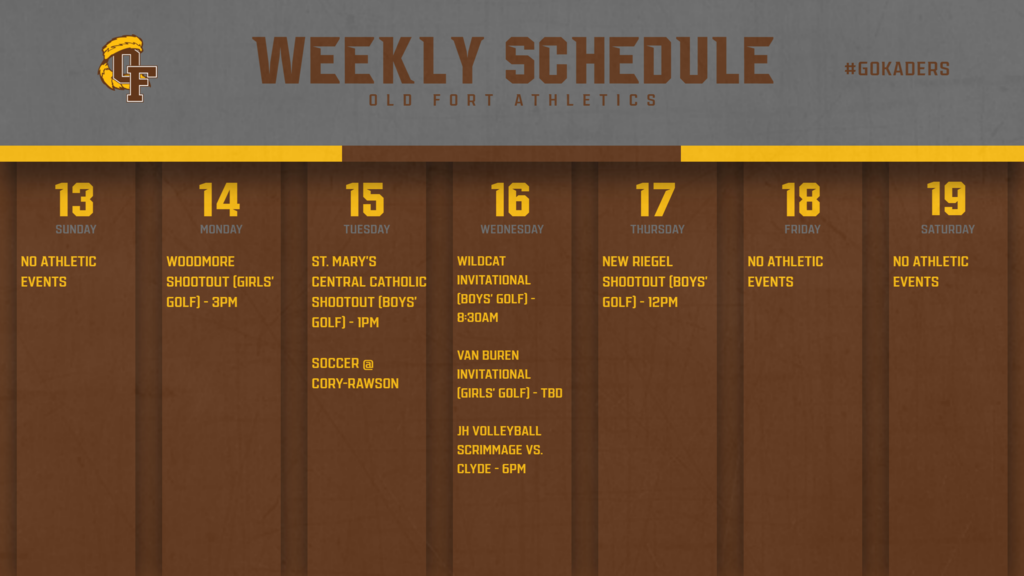 Soccer drops the first game of the season 4-2. Hard fought game, but our Stockaders fall short. Next contest is 8/15 at Cory-Rawson!

Golf with YET ANOTHER fantastic performance today, winning the Lakota Invitational with a score of 328. The boys are showing out! Ryan Adelsperger: 74 (medalist) Evan Combs: 78 Carter Cleveland: 86 Konnor Ernsberger: 90 Carter DuBois: 91 #GoKaders

Soccer kicks off their regular season tomorrow at Van Buren, game starting at 7:00 PM. Tickets can be purchased with this link, or at the gate: vbathletics.net/boxoffice Students K-12 and Senior Citizens (65+) get in for FREE! Come out and support ⚽️ #GoKaders

To wrap up today's events, our boys' golf team continued to compete with the Old Fort standard, winning the Seneca East Invitational by shooting a 307! Carter Cleveland: 71 (medalist) Ryan Adelsperger: 77 Evan Combs: 77 Konnor Ernsberger: 82 Carter DuBois: 87 #GoKaders

Soccer was able to punch in two victories before their season starts Friday at Van Buren. A nice 6-1 win over Otsego on Monday and a 5-1 win over Crestview tonight. #GoKaders

Our boys' golf team continued their hot streak, winning in convincing fashion today at the Hopewell-Loudon Shootout. The team shot a 156, winning by 19 strokes! Evan Combs: 37 (best score in Shootout) Carter Cleveland: 38 Ryan Adelsperger: 40 Konnor Ernsberger: 41 #GoKaders

Here is the weekly athletic schedule for the week of 8/6-8/12. Go Stockaders!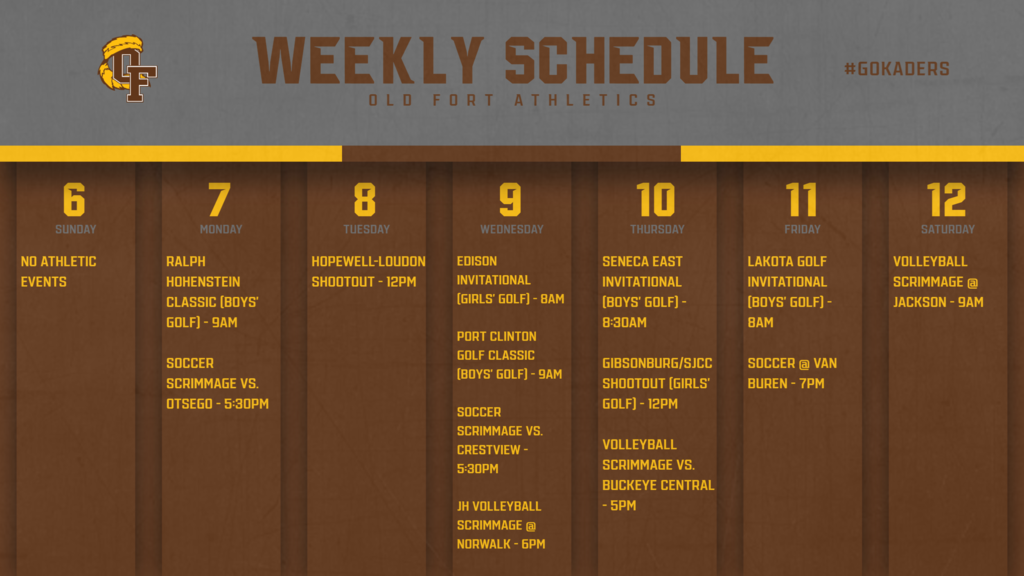 Please click on the link below to view a welcoming message from our Superintendent, Cindy Endsley. Have a great day!
https://5il.co/21814

Old Fort LSD is seeking individuals interested in a VOAG Paraprofessional position. If interested, please fill out the application located at
http://5il.co/5j3z
and submit it to JH/HS Principal, Jay Morelock at
jmorelock@oldfortschools.org
Thank you!

Old Fort Local Schools is proud to announce one of our very own staff members as Ohio's District 1 Teacher of the Year: Mrs. Amy DeRodes, Band/Choir Director. Mrs. DeRodes is 1 of 11 teachers in the "Teacher of the Year" cohort. We are very proud of her accomplishments! Please check out the video that highlights Mrs. DeRodes and the other teachers.
https://education.ohio.gov/Topics/Teaching/Ohio-Teacher-of-the-Year-OTOY

Reminder that Fall Pictures are tomorrow in the HS gym at 2PM-3:30PM. The schedule will go as followed- 2:00: Boys and Girls Golf 2:20: Varsity and JV Volleyball 2:40: JH Volleyball 3:00: Soccer 3:20: All of Cross Country Thank you!